With Songs to Save the Salish Sea, Sharon Abreu and Michael Hurwicz are on a mission to inspire stewardship of the great inland sea of the Pacific Northwest, the Salish Sea, stretching from south of Seattle to well north of Vancouver, British Columbia.
In 2012 the Salish Sea — valued for its beauty, recreational appeal and marine life, including salmon and Orca whales — suddenly came under major threat. Island and coastal communities found themselves battling a barrage of proposals by the fossil fuel industry to export large quantities of coal, highly toxic Alberta tar sands oil and explosive Bakken shale oil to Asia through the narrow, already heavily trafficked straits of the Salish Sea.
Along with many other local residents, Sharon and Michael have been fighting back. Their favored weapons: rich vocal harmonies; catchy, lyrical and soaring melodies; and humorous, quirky, poetic and poignant lyrics.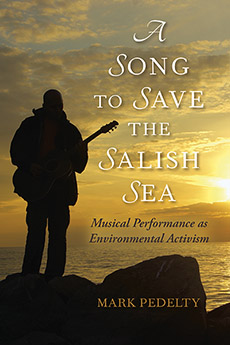 Irthlingz interview is included in Mark Pedelty's book "A Song to Save the Salish Sea"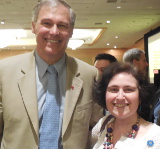 Sharon attended the 6th annual Climate Solutions breakfast in May, 2014, where Governor Jay Inslee was the featured guest speaker.
Sharon attended the extraordinary Paddle in Seattle event in West Seattle on Saturday, May 16, 2015. Organized by the Backbone Campaign and supported by a host of prestigious environmental groups, the event was a huge success.